Christmas Light Installation: Gandy Can Make Your Home Shine!
From New Years' Eve, to Diwali, Vancouver has a lot to glow about.
If you've been to New York City, you've seen the Empire State Building and the colourful spire change with the seasonal and cultural events — even celebrating their favourite teams.
We're so fortunate in Vancouver to have a multicultural tapestry, with many ethnic communities and their own "official" times to show off their celebrations with their home.
The first outdoor Christmas lights were available to Canadian homeowners in the late 1920's, but for most, it was much too expensive. Over the years, many styles and colour designs have made their appearance, but until now, it was a painstaking effort to hang the lights, and you were restricted to one colour grouping.
It was also essential to take them down right away as the season ended, as rust and corrosion of the lights would deteriorate your strings in our cold climates.
Today, in Vancouver, there are so many reasons to celebrate. From Diwali, Hanukkah, and Christmas, festivals of lights aren't just for Christmas anymore!
Gandy Installations is now a proud distributor and installer of Gemstone lights.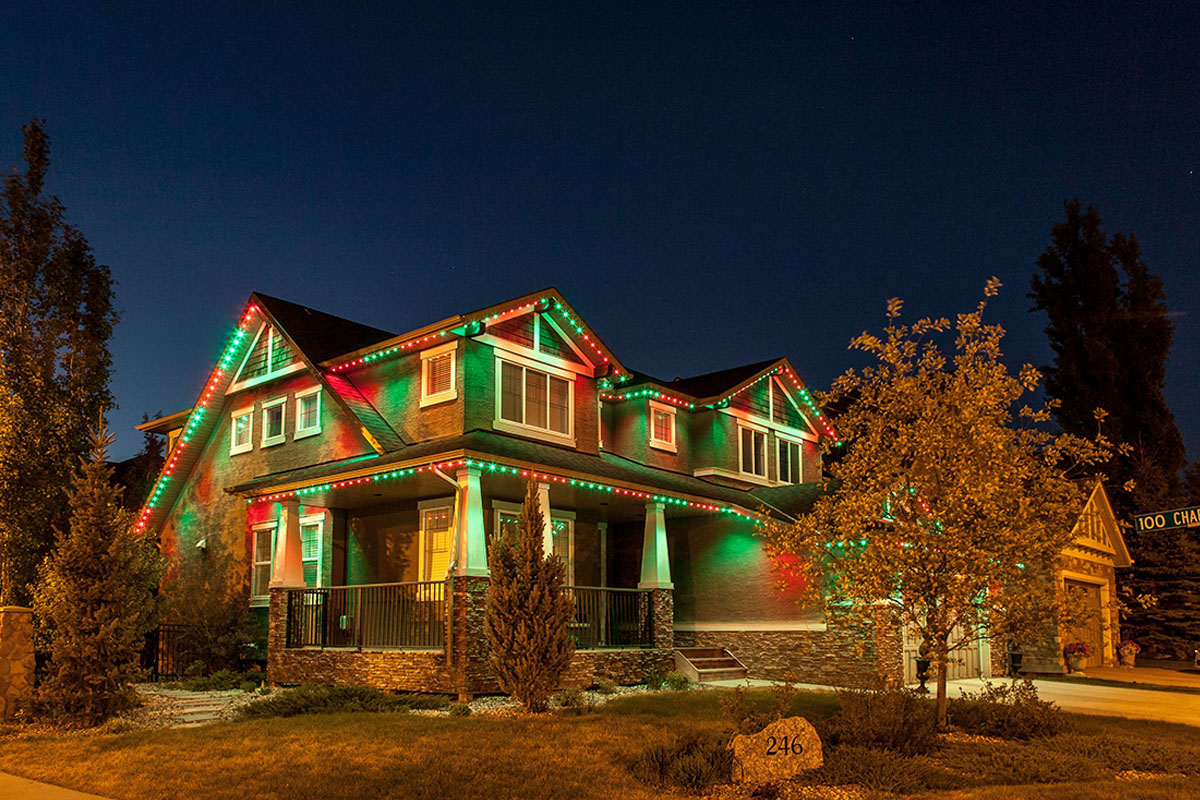 Gemstone is a unique lighting solution that allows you to customize your home lighting any time of the year easily.
The system has a weather and fireproof rating. Although most outdoor lights are rated to -20, we're the only company in Canada to offer a temperature rating of -55c. Gemstone is also the only company in Canada whose lights are fireproof rated.
Your old lighting system will fail in around 2-5 years, but the Gemstone collections are rated for 20 years.
Using a weatherproof quick connect system, you'll find that serviceability is much easier if a single light ever burns out. The Gemstone lighting system does not require special wiring, as it plugs into any existing outlet. The high-quality low power light bulbs won't burden the energy bill.
These days you'll love the wi-fi connection and easy app that will help you create the perfect colour, from warm white to a Canuck Blue or BC Lions orange, to show off your team spirit on game days!
From a small installation around your backyard pool to spectacular façade lighting, you'll love how your house will stand out on the street.
There's also a security aspect to the Gemstone series. Your home will be less inviting to criminals when your place is well-lit.
Contact Us For A Free Quote
Contact us at (604) 534-5555, and a member of our friendly and knowledgeable reception staff will be pleased to provide you with more information.
https://gandyinstallations.net/wp-content/uploads/2022/11/Gemstone-Pic-1200-x-800.jpg
800
1200
admin
https://gandyinstallations.net/wp-content/uploads/2021/10/logo.png
admin
2022-11-30 15:48:33
2023-04-12 18:27:01
Christmas Light Installation: Gandy Can Make Your Home Shine!