COVID-19 has made our customers more aware than ever of the importance of good air quality. With more time spent at home due to government recommendations for social distancing, air filtration and improving indoor air quality has become a top priority.
Health authorities also recommend maintaining good airflow and air quality by:
Keeping your home free of airborne particles, germs and excess humidity.
Ensuring your home's vents, ducts and filters are clean.
Gandy's air duct cleaning service reduces dust levels and improves air quality. On average, our HVAC contractors remove five to six pounds of dust, dirt and debris during a typical Gandy air duct cleaning. We also provide an additional dryer vent cleaning service that can be done along with your duct cleaning, or booked separately.
Air Filtration
&

Purification
Protect Your Home With Air Filtration
Central air systems circulate air throughout your home, including particles smaller than you can see with the human eye. You may not be able to see them, but you don't want to breathe in any of the following airborne particles and bio-contaminants:
Dust & Dirt
Tobacco Smoke
Pollen, Spores, Pet Dander & Other Allergens
Germs, Bacteria & Viruses
Mould & Mildew
Bio Aerosols
Volatile Organic Compounds
Chemical Odours & Vapours
We can recommend mechanical systems such as humidifiers, air filtration systems and high-quality HVAC filters. You can protect yourself and your family with filters and other air quality products including high-efficiency filters that trap particles, as well as bulbs that emit UV light to kill germs.
To see how you can improve the health, comfort and safety of your home, as well as recommended air quality products, please see our AirAdvice For Your Home guide.
Air Filtration & Purification
Products such as high-efficiency filtration systems, UV air purification systems, air conditioners and humidifiers can all make a huge difference in the air quality in your home.
Ask one of Gandy's HVAC specialists about the following:
Merv-16 Filters
HEPA Filters
UV Lights
We carry some of the best air quality products on the market, and our team can assist you in the selection of the right product for your situation as well as install it correctly. View our premium indoor air quality products here!
Lennox's PureAir air purification system is the gold standard when it comes to purifying the air in your home and improving indoor air quality. It delivers energy-smart air filtration for your entire home, without generating ozone. Plus, it's compatible with all HVAC systems.
PureAir offers a whole-home system for purer air in every room and every breath.
Read more about the benefits of PureAir against COVID-19 here.
Sanuvox offers UV air purification systems designed to destroy biological and chemical contaminants.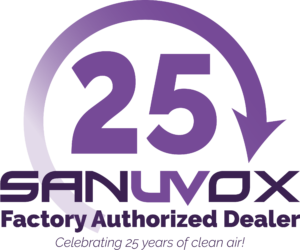 Contact Us For A Free Quote
Fill in the form below or call us at (604) 534-5555, and a member of our friendly and knowledgeable reception staff will be pleased to provide you with a quote for your home, office or commercial establishment.