Permanent, Customizable LED Lights Controlled From Your Smart Device
Gandy Installations is proud to be an authorized dealer of Gemstone Lights. Add some style to your home's exterior lighting all year long with solutions for any home or business.
What Are Gemstone Lights?
Since 2016 Gemstone Lights has grown from the inside of owner Tate Leavitt's garage to offering its products in over 170 markets across North America today. Gemstone Lights still continues to grow rapidly and is extremely committed to making high quality outdoor and indoor LED lighting solutions available to everyone.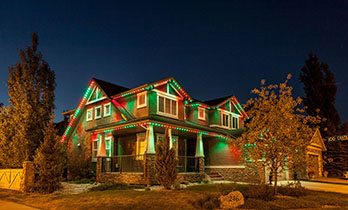 Choose any bulb with any look you desire. Replace your pot or can lights with Gemstone Lights! Gemstone Lights offers a wide array of awesome patterns, however, architectural lighting is a top favourite of all Gemstone Light users!
Why Choose Gemstone Lights?
White warm LED
Fully customizable colours
Individual Waterproof Connections
Cloud-enabled
Set Multiple Timers
Architectural lighting
Dimmable lights
Bumper to bumper warranty
Gemstone Lights custom app
Contact Us For A Free Quote
Fill in the form below or call us at (604) 534-5555, and a member of our friendly and knowledgeable reception staff will be pleased to provide you with more information.