Raise Your IAQ And Breath Easier
We're finally beginning to see spring show up in Vancouver. The trees are just starting to bud, flowers are popping up everywhere, and the days are warmer most of the time. It's exciting, but what spring brings with it is problematic for our indoor air quality (IAQ).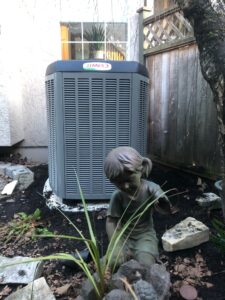 One of the most prevalent spring air pollutants is pollen. It's allergy season, and as the flowers shed their irritating spores, many of them get into your home, causing stuffy noses, red, puffy eyes, and other reactions.
However, indoor air pollution examples go beyond that. In warm weather, humidity inside the home rises a well. Higher humidity leads to more airborne contaminants, not just pollen but dust, mold and mildew, and even bacteria. These contaminants thrive in moist environments, lowering indoor air quality and making our allergies and asthma worse.
Spring also leads to increased evidence of volatile organic compounds (VOC's). If you're doing spring cleaning, many of your supplies — oven cleaners, floor polish to paints and solvents — all containing harmful chemicals. The fumes they emit can remain in your air for a long time, making it difficult to breathe for many people.
There's a few things you can do to make things better. Make sure you change your furnace air filter regularly, so it can continue removing the and other contaminants. If you are doing major renovations or cleanup, it might be smart to change the filter after you are finished, as it's likely your filter has been working harder than usual.
Set your thermostat to "cool" or "auto" under the system function. Setting it lower will not make it cool down faster.
Clean, fresh air is important year round, of course, but we've all recognized its importance particularly in 2020-21, as we've all been at home a lot more. Seasonal allergies and dust can affect us while we're indoors! When it comes to Indoor Air Quality, Gandy Installation has a host of solutions for you — from humidifiers, HEPA filters, UV lights, and the PureAir Filtration system (with a MERV 16 filter, UV light and catalyst) These range of filters remove from 85 to 95% of fine particles. As the "Gold Standard" in Air Quality products, the PureAir system removes 90% of bioaerosols (MERSA, cold, and flu) down to 0.01 microns. A conversation with their professionals can help you build a clean air solution for your home that suits your budget, your lifestyle and health concerns.
It's also a great idea to have Gandy Installations perform a tuneup on your system. Whether it's a furnace, air conditioner, boiler, heat pump or even pool heaters, fireplaces, tankless water heaters or air exchangers, getting your system ready for spring and summer gives you confidence that your indoor air quality is the best it can be. Breathe easier!
What is included in a furnace tune-up?
Safety:
Heat exchanger inspection
Check venting condition
Test operation of safeties
Test home for carbon monoxide
Test mechanical room for gas leaks
Check and adjust water temperature
Cleaning & Operation:
Clean thermostat and check operation and adjust schedule to fit customer's needs
Observe furnace for proper operation
Change/Clean filter
Clean fan blades
Clean and oil fan motor
Adjust belts (if applicable)
Clean all furnace parts and cabinets
Clean and adjust air shutters
Clean burners and pilot assembly
Tidy electrical wiring and tighten any loose connections
Measure amperage draw from several components
Check temperature rise
Observe for proper clearances of venting and combustion air
Observe condition and alignment of burners
Clean hot water tank and observe for gas/water leaks
Check and adjust gas pressure
What is included in an air conditioner/heat pump tune-up?
Clean thermostat and check operation and adjust schedule to fit customer's needs
Observe unit for proper operation
Change/Clean filter
Clean all unit parts and cabinets
Tidy electrical wiring and tighten any loose connections
Measure amperage draw from several components
Check temperature rise/drop
Ensure indoor fan is operating on high speed
Check refrigerant levels
Test operating pressures
Clean outdoor condensing unit
Balance air flow
Check and clean condensate line
Observe indoor coil
Inspect compressor
https://gandyinstallations.net/wp-content/uploads/2021/10/logo.png
0
0
admin
https://gandyinstallations.net/wp-content/uploads/2021/10/logo.png
admin
2021-04-06 11:45:21
2022-02-08 17:10:04
Raise Your IAQ And Breath Easier