A tankless water heater is an ideal option as it only heats water when it is needed. This eco-friendly option provides an endless supply of hot water at a steady temperature, so you never have to worry about running out of hot water again. Tankless water heaters also operate at a higher efficiency than hot water tanks – tankless systems operate at up to 98% efficiency where a conventional hot water tank is closer to 50%. They also occupy much less space, and can be mounted to the wall to free up floor space.
The best product for your hot water needs are the Navien high efficient continuous hot water heaters, using state of the art technology, high efficiency, and reliable quality, as well as over 30 years of experience with advanced water heater technology – they are the industry leader. However, we sell and service all tankless water heaters. Gandy Installations is a "Navien Service Specialist" dealer, a designation given only to the best, as our technicians and installers have undergone extensive training on these advanced tankless hot water systems. Call us today to book an appointment to have your current system serviced, or to have your free quote on a new tankless system, and start enjoying an endless supply of hot water!
Rheem RTGH-95DVLN
---
94% Efficient tankless water heater!
94% efficient
Hot start programming helps minimize temperature fluctuation
$500 Fortis BC rebate (some restrictions apply)
Compact, space saving design
Stainless steel heat exchanger
12 year heat exchanger warranty
5 year parts warranty
Navien NCB240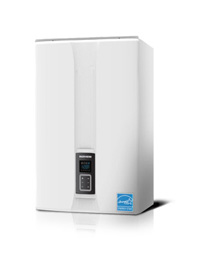 ---
95% Efficient heating and hot water Combi unit!
95% efficient
Capable of supporting heating and hot water applications
Compact, space saving design
Dual stainless steel heat exchangers
10 year heat exchanger warranty
5 year parts warranty
Navien NPE240A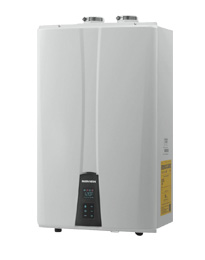 ---
97% Efficiency industry leading tankless water heater technology!
97% efficient
ComfortFlow technology (buffer tank and recirculating pump)
$500 Fortis BC rebate (some restrictions apply)
Compact, space saving design
Dual stainless steel heat exchangers
15 year heat exchanger warranty
5 year parts warranty