Gandy Installations offers a wide selection of top notch garage heaters designed to make your garage more comfortable, and keep your vehicles in great shape. You may ask "why would I need to heat my garage?" Installing garage heaters can do wonders for your families car or truck reducing premature failures due to cold starting your engine. Imagine not having to wait for your car to warm up, making you late and wasting your fuel! Do you store paint, cleaning solutions, or other products or chemicals in your garage? Allow them to last longer without the threat of freezing due to winter conditions with a garage heater. A heated garage is also a great place to keep an outdoor pet in the winter months, while still maintaining a clean home. Garage heaters can provide a solution for all of these nuisances. The garage heaters that Gandy Installations installs are perfectly safe to operate in a garage as they mount from the ceiling, away from any combustible gases. Consider a Lennox Hot Shot heater, which mounts to the ceiling, creating a low profile, or an infrared heater. Whatever the garage size, Gandy will be happy to find a solution that is uniquely catered to your home and your personalized needs.
Lennox LF24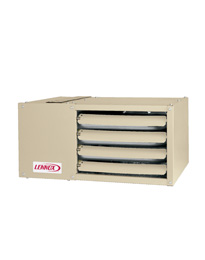 ---
Reliable garage heating from well-made equipment!
Up to 81% efficiency
30-75,000 Btu/H
Tubular aluminized heat exchanger
5 year parts warranty
5 year heat exchanger warranty
Low profile cabinet design
Lennox TUA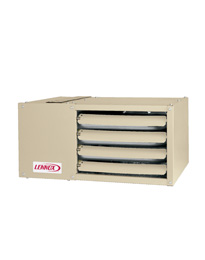 ---
Seperated combustion Lennox garage heater!
Up to 80% efficiency
45-75,000 Btu/H
Seperated combustion heat exchanger
10 year heat exchanger warranty
5 year parts warranty