Gandy Installations installs both Navien, and Rheem hot water on demand systems. Both of which are high-quality high efficiency condensing tankless products that allow an uninterrupted flow of hot water to your outlets without the worry of ever running out! Free up space in your mechanical room and save money on fuel consumption at the same time!
Navien offers both a condensing tankless hot water heating system, as well as a condensing wall mount combi-system that will replace your boiler AND hot water tank. If you have in-floor, or baseboard heating, Navien can offer you a single, wall mount unit that will heat your home as well as provide you with hot water for the whole house! Both of Navien's on-demand systems utilize dual stainless steel heat exchangers for a system that will continue to work long after a conventional hot water tank would have lasted. Navien systems operate at up to 98% efficiency on tankless hot water systems, and up to 92% efficiency on combi boiler systems. Let Navien's 30+ years of experience with advanced water heater technology, along with certified "Navien Service Specialists" Gandy Installations 60+ years in the home comfort industry help you find a hot water heating solution that fits your needs!
Rheem offers a 94% efficient tankless hot water system with a condensing stainless steel heat exchanger. Enjoy the convenience of a continuous hot water supply along with the cost savings of a high efficiency unit. Rheem systems use intelligent electronic controls that increase efficiency and safety as well as hot start programming which helps to minimize fluctuation in water temperature during periods of frequent on/off operation.
Navien NHB Series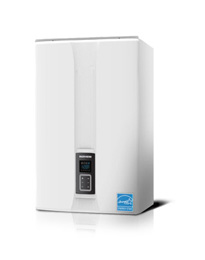 ---
Navien condensing heating-only boiler!
Up to 95% efficient
Heating only boiler
Compact, space saving design
Dual stainless steel heat exchangers
10 year heat exchanger warranty
3 year parts warranty
PRheem RTGH-95DVLN
---
94% Efficient tankless water heater!
94% efficient
Hot start programming helps minimize temperature fluctuation
Compact, space saving design
Stainless steel heat exchanger
5 year heat exchanger warranty
5 year parts warranty
Navien NPE240A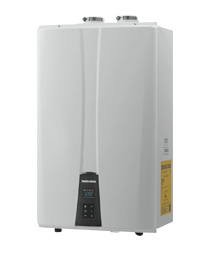 ---
97% Efficiency industry leading tankless water heater technology!
97% efficient
ComfortFlow technology (buffer tank and recirculating pump)
Compact, space saving design
Dual stainless steel heat exchangers
10 year heat exchanger warranty
3 year parts warranty